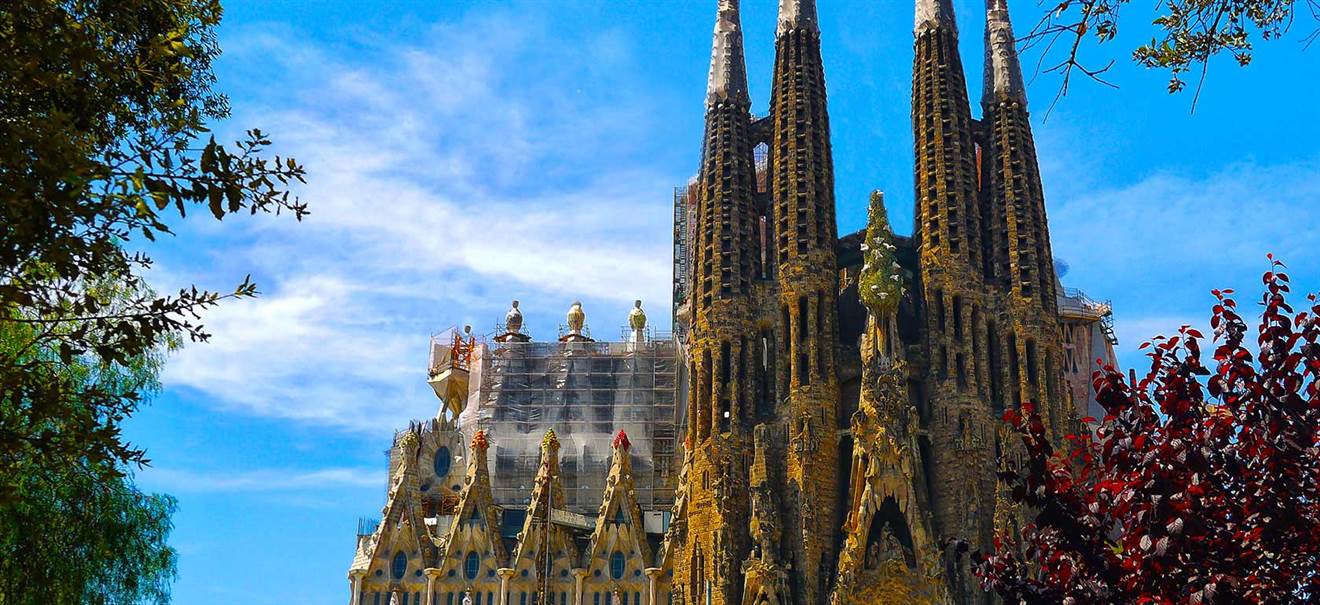 La Sagrada Familia Guided Tour, Skip the line!
To product

SKIP THE LINE!

AUDIOGUIDE
Optional

100% MOBILE!
Millions of tourists visit La Sagrada Familia annually to see this beautiful Roman Catholic basilica, designed by one of the most brilliant architects the world has ever known, Antoni Gaudi.
Let an experienced local guide take you into La Sagrada Familia and experience Gaudi's masterpiece in a personal, friendly and informative way! During the tour, the guide will take you around the exterior as well as inside the impressive building. In addition, the guide will take you to the onsite museum and give you information about the history and construction of La Sagrada Familia through photographs, sketches, and plaster models. The guide will also tell you more about the fascinating life and career of Antoni Gaudi.
All guided tours are offered several times a day in different languages. 

Languages:
English: 6 days a week (except Sundays), morning & afternoon 
Departures:
6 days a week (except Sundays), starting from the meeting point at the corner of Carrer de Provença & Carrer de la Marina.
Duration: 
1 hour and 30 minutes (approximately)
After your booking, you will receive your voucher by email. The entrance ticket for La Sagrada Familia is included in the price. You can select morning or afternoon tickets. An exact time slot will be given after your reservation.
Please make sure that you arrive on time and to bring your voucher and ID! (There will be no tours on December 25th & December 26th and January 1st & January 6th).
Buy your ticket
on Ticketbar
Get your ticket
via e-mail
Show your ticket
on your phone
88 reviews
Today's quote
Mireia was a very nice and professional guide. We have nothing but possitive and nice things to say about her! We have booked her the last monday in december the year 2026 at 9.30 outside the Church in the Gaudi-corner ;-) Yours sincerely Jonas Ivarsson
Reviews of La Sagrada Familia Guided Tour, Skip the line!
88 reviews
5
We would recommend this tour to everybody! Great guide - she did her job very well!! The best guided tour in Barcelona. La Sagrada Familia is absolutely worth a visit with this guided tour. Worth all the money.
5
The guide was fantastic. Greetings to her from 4 Danes. Venlig
4
We have enjoyed the Sagrada Familia tour, excellent guide ! She was so enthusiastic that we have decided to return to Barcelona when it will be finished. wkr
5
we had a wonderfull guided tour of La Sagrada. The guide was well-informed, gave us many interesting stories about La Sagrada and Gaudi without feeding us too many details. She had a nice spirit and we enjoyed the tour. best regards Kirsten
5
We had an outstanding tour. Very well guided. Good pickup point. Our tourguide was very well informed and guided us on a pleasant way. We highly recommend you to tourists to enjoy La Sagrada Familia. A must see visit during a Barcelona city trip. Greetings.
5
Hi, We had a wonderful tour. Our guide was very kind and very good. Thank you Nel and Nico